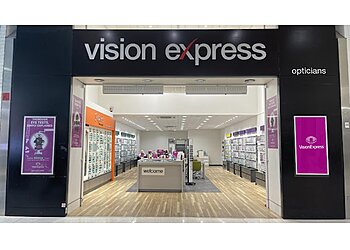 Vision Express Opticians-Watford is a renowned chain business with a widespread presence across the UK. The store boasts a comprehensive eyewear collection featuring exclusive brands and designer names. In addition to eyeglasses, Vision Express is a go-to destination for high-quality sunglasses and contact lenses. Their knowledgeable opticians assist customers in selecting the perfect spectacles that match both their style and vision requirements. The establishment goes above and beyond by providing free eye tests, encompassing retinal photography, and a 2-for-one offer on child glasses. At Vision Express, customers can explore a range of quality accessories at reasonable prices. The store's commitment to customer satisfaction is evident through its free 100-day returns guarantee, ensuring peace of mind for shoppers. Furthermore, Vision Express offers complimentary lifetime servicing, covering frame and nose pad adjustments, side adjustments, and replacements. With a commitment to excellence and customer-centric services, Vision Express Opticians-Watford stands as a premier choice for all eyewear needs.

UNIQUE FACTS:
• In-store Shopping, Pick-up And Delivery
• Contact Lens Check Up & Free Trial
• Transitions & Blue-violet Light Lenses Available
• Free 100 Day Returns
• Free Lifetime Servicing
• Wide Range Of Designer Glasses And Sunglasses
• Flexible Payment Methods: American Express, Maestro, Mastercard, Visa, And Klarna Accepted.
Speciality:
Single Vision, Conjunctivitis, Children's and Teen's Glasses, Contact Lenses, Women's, Astigmatism, Bifocal, Children's Eye Health, Eyeglass Accessories, Multifocal, Eye Test, Men's, Sunglasses, Scratch-Resistant Lenses, Anti-Reflective and Adaptive Lenses, Varifocal, Presbyopia & Short and Long Sight
£Price:
Sunglasses Starts from £105
glasses Starts from £25

Discount:
50 % Off on Sunglasses
15% Off on Selected Glasses
20% Off on Lenses
50% Off on Your 2nd Pair
20% Discout for Students
View Coupon
Contact:
Working Hours:
Mon-Sat: 9am - 5:30pm
Sun: 11am - 5pm
TBR® Inspection Report: