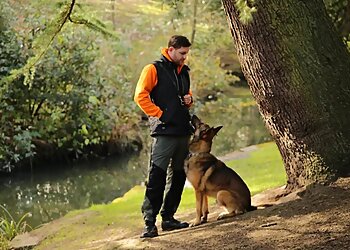 Unleashed K9 Services is a well-recognized dog training company located in Liverpool. Their head trainer, Danny Wells, is a specialist in dog training and canine behavior. With a successful track record of rehabilitating numerous dogs, Danny is dedicated to sharing his knowledge and insights with those in need. He has had the privilege of judging working trials alongside some of the UK's top working dog trainers, demonstrating his expertise in the field. To stay at the forefront of the industry and maintain effective and innovative practices, Danny regularly participates in learning seminars. Unleashed K9's refined approach has proven itself through tangible results, including saving dogs' lives. They work closely with both dogs and their owners to foster a harmonious relationship and strengthen the bond between them.

UNIQUE FACTS:
• Specialise In The Rehabilitation Of Dogs
• Experts In Personal Protection Dogs.
Speciality:
Behavioural Modification, Sit, Down, Stand, Stay, Recall, Scent Detection, Personal Protection & Advanced Obedience
£Price:
Initial Assessment £150
Puppy Assessment £150
1:1 Lesson £50
Protection Assessment £200

Contact:
Working Hours:
Mon & Fri: 9am - 6pm
Tue: 9am - 10pm
Wed: 9am - 8pm
Thu: 9am - 5pm
Sat: 9am - 3pm
Sun: Closed
TBR® Inspection Report: