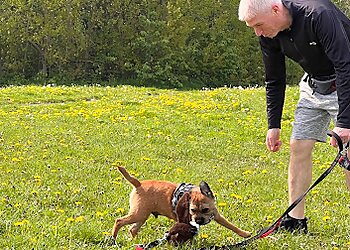 Pets2impress Ltd, founded by Tim Jackson in 2008, is a comprehensive pet care service offering a range of personalized solutions. Tim, with a decade of experience working with animals, provides 1-1 Dog Training, Dog Daycare, Pet Sitting, Socialization, and Agility classes. His extensive knowledge and commitment to enhancing your dog's behavior set Pets2impress apart. Tim Jackson brings a wealth of expertise to the table, having completed multiple animal behavior courses, including the prestigious Think Dog Certificates and a Diploma in Animal Behavior. This diverse background allows him to address a variety of training needs and correct behavioral issues through positive, reward-based training programs. Combining his extensive nursing experience, Tim specializes in one-on-one training sessions designed to tackle all problem behaviors effectively. The emphasis on positive reinforcement ensures a nurturing and supportive approach to training. Tim is recognized for his sense of humor, as well as his profound love and dedication to the welfare of all animals. Beyond providing exceptional training services, his mission is clear: to assist owners who are grappling with their dogs, ultimately preventing dogs from ending up in shelters. This commitment to the well-being of both pets and their owners underscores the heart of Pets2impress Ltd's mission.

UNIQUE FACTS:
• A Very Friendly, Fully Insured Ethically-run Pet Care Business
• Provides Exclusive, Professional And Above All.
Speciality:
One to One Behaviour Training, Obedience Training, Puppy Class, Essential Basics, Lead Training, Recall, Dog Training, Pet Sitting, Dog Walk, Dog Daycare, Grooming & Agility
£Price:
Full Day at Daycare £33
Half Day at Daycare £25
Adventure Daycare £39.50
Scent Daycare £35
Daycare with A School Trip £37

Discount:
Recommend a Friend and You'll Both Receive £5 Discount
Contact:
Working Hours:
Mon-Fri: 7:30am - 6pm
Sat & Sun: Closed
TBR® Inspection Report: