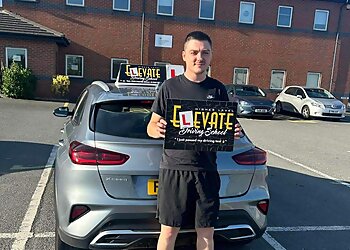 Elevate Driving School has maintained its position as a prominent choice for intensive driving and crash courses in Nottingham. The driving school is staffed with fully qualified, DBS-checked, and DVSA-registered driving instructors, delivering driving lessons and intensive courses across Nottingham, Derby, and Leicester. They take pride in offering patient and composed male and female instructors, all equipped with modern dual-controlled vehicles. At Elevate Driving School, the practice is to have just one student in the vehicle during each driving lesson. Their primary focus is not only on helping you pass your driving test but also on fostering safe driving habits and enhancing driving standards and awareness. Additionally, the school offers discounts to students key workers, and block bookings. You have the convenience of starting your lessons from your home, college, or workplace. Year after year, Elevate Driving School witnesses numerous successful driving test passes.

UNIQUE FACTS:
• Gift Cards
• Free Online Elevate Theory And Hazard Perception
• Discount For Nhs
• Manual And Automatic Driving Lessons
• Male And Female Driving Instructors.
Speciality:
Intensive, Mobility Lessons, Instructor Training, Automatic and Manual Driving Lessons, Standard, Refresher, Motorway, Daytime Lessons, Pass Plus & Semi-Intensive Courses
£Price:
Standard Manual Rate : £40 per 1 hour all Manual Driving Lessons
Intensive Manual Lessons : £42 per 1 hour
Concessionary Manual Rate : £36per 1 hour
Intensive Automatic Driving Lessons: £42 per 1 hour
Mobility Lessons Automatic: £37 per 1 hour
Driving Lessons Weekend Automatic: £39per 1 hour
Crash Course Automatic: £1,612
Driving Lessons Evenings Automatic: £39 per 1 hour
Driving Lessons 8am – 4pm Automatic: £38per 1 hour
Manual and Automatic Refresher Lessons: £38 per 1 hour
Use of Car On Test Day: £80 inc Collection and Return Home

Non Elevate Customers/Test Booked : £40 per hour (minimum 7 hours)
Instructor Training: £40 per hour ( Part 2 and Part 3 )
Weekend and Bank Holiday Tests Use of Car: £90

Discount:
NHS and Students are entitled to 10% Off on all Standard hourly rates when PAYG
Award:
Black Achievers Award - 2016
Contact:
Working Hours:
TBR® Inspection Report: