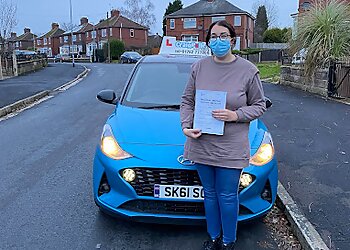 Craig Polles Instructor Training is a well-established driving school renowned for its commitment to delivering top-quality instruction, primarily focusing on the success of its learner drivers. This school is under the ownership and direction of Craig Polles, a Grade A-approved driving instructor. They take pride in offering driving lessons of exceptional quality, which provide excellent value for your money. Having taught numerous student drivers and aspiring driving instructors, Craig Polles brings a wealth of experience. When you choose Craig Polles for your lessons, you equip yourself with the best opportunity to pass the practical exam on your very first attempt. Their extensive experience allows them to quickly adapt lessons, ensuring that you derive the maximum benefit from each session, leading to your progress and increased confidence as you accumulate driving hours. Notably, Craig Polles Driving School extends its services to various areas, including Barlaston, Chesterton, Endon, Fenton, Gillow Heath, Hanley, Kidsgrove, Longton, Middleport, Packmoor, Rode Heath, Silverdale, Talke, Wolstanton, and the surrounding locales.

UNIQUE FACTS:
• Registered With Dvsa Instructor
• Fully Qualified Instructor
• Automatic And Manual Lessons
• Free Theory Training
• Flexibility To Suit You
• Flexible Pick Up and Drop Off.
Speciality:
1, 1.5, 2 Hours Driving, Automatic and Manual Lessons, Practical and Theory Driving Tests, Advanced Driving Instructor and Standards Check Training, Motorway Driving Tuition, Pass Plus Courses, 10, 20, 30 & 40 Hours Block Booking Driving Lessons
£Price:
Manual Lesson : New Driver Offer:
6 hours tuition (3x2hr lessons) £200
Pay as you go (Manual Lessons):
Standard hourly rate £35
Standard 90 min lesson £52
Standard 2 hour lesson £68
Block Bookings (Manual Lessons):
10 Hours £340
20 Hours £660
30 Hours £975
40 Hours £1280

Motorway Lesson (2hr) £75
Standards Check Training (2hr) £80
Pass Plus Course (6hr total) £200
Automatic Driving Lessons
6 hours tuition PLUS Free Theory training £200
Standard hourly lesson- £37
Standard 1.5 hour lesson £54
Standard 2 hour lesson- £72
Block Bookings
10 hrs pre paid - £360

Contact:
Working Hours:
Mon-Fri: 8am - 8pm
Sat: 9am - 6pm
Sun: Closed
TBR® Inspection Report: