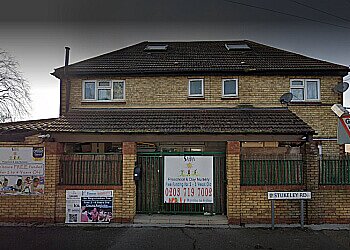 Sahan Pre-School and Day Nursery is prominent among nursery schools in London. Their primary objective is to establish a secure and supportive setting where your child can thrive, feeling safe, joyful, and motivated. Their staff selection is meticulous, focusing on individuals who can contribute to creating the most conducive environment. Their overarching mission is to break the cycle of child abuse and neglect through early intervention, strongly emphasising nurturing resilient and successful children, empowering parents, and preserving family bonds. The nursery warmly welcomes children ranging from 3 months to 5 years old, and their dedicated staff comprises caring professionals who have all undergone thorough Enhanced DBS (Disclosures and Barring Services) checks. At Sahan Pre-School and Day Nursery, children can access various activities and resources designed to nurture their skills. These activities encompass music sessions, creative endeavours, and engaging story times, allowing children to explore their abilities fully.

UNIQUE FACTS:
• The School Is Spacious And Well Equipped, Offering A Stimulating Environment Promoting Development In All Key Learning Areas.
• Provide High-Quality Education And Childcare
• Gardening Club
• Outdoor Play.
Speciality:
PROGRAMS: Personal, Social and Emotional Development, Communication and Language Development, Physical Development, Expressive Arts and Design, Mathematics, Literacy & Understanding of The World
£Price:
0 - 2 Year Old
£185/5days/per Week/Half Day
£295/5days/per Week/Full Day
£80/2days/per Week/Half Day
£150/2days/per Week/Full Day
2 - 3 Year Old
£80/5days/per Week/Half Day
£40/4days/per Week/Half Day
£150/4days//per Week/Full Day
£190/5days//per Week/Full Day
£50.00 Registration Fee

Discount:
5% Family Discount Where Two Children Attend Same Sessions
5% Discount Has Been Applied to Full-Time Fees
5% Discount for Children Attending Five Full Days
Contact:
Working Hours:
Mon-Fri: 7:30am - 6:30pm
Sat & Sun: Closed
TBR® Inspection Report: