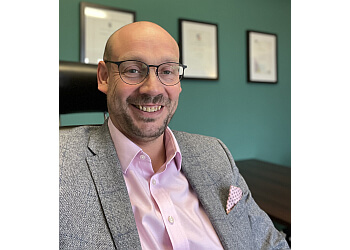 Mollan & Co Accountants Ltd is a reputable and trusted accounting firm that excels in providing comprehensive tax and accountancy solutions. With a proven track record of excellence, they are the ideal choice for handling your financial needs. Having nearly 40 years of experience, Mollan & Co Accountants has earned a reputation for delivering accurate and efficient services to diverse clients. Rob Mollan, PHD BSC AFA is the Managing Director and owner of this company. Their team of skilled and knowledgeable professionals stays updated with the latest tax laws and accounting practices, ensuring compliance and maximum benefit for their clients. The firm's commitment to personalized service sets them apart. They take the time to understand each client's unique financial situation and tailor solutions accordingly. Whether you're an individual, an existing business, or a start-up, Mollan & Co Accountants has the expertise to cater to your specific requirements. Their customer-centric philosophy ensures clear communication and transparency throughout the process. Their dedicated team can manage your payroll efficiently, ensuring compliance and timely payments. They provide expert accountancy services that cater to your unique business needs. Choosing Mollan & Co Accountants means entrusting your financial matters to a dedicated team of experts who are passionate about helping you achieve your financial goals. They offer fixed, all-inclusive monthly fees. Contact them to schedule a free consultation. They're offering two completely free e-book resources.

UNIQUE FACTS:
• Provide Affordable and Understandable Accountancy and Business Support Services.
• Offer a Free in Person Initial Meeting.
• They Arrange a Teams, Zoom or Telephone Consultation.
• Their Appointment Times Are Flexible and Can Be Arranged Out of Hours to Accommodate You & Your Business.
Speciality:
Accounts Preparation, Payroll and CIS, Consultancy and Planning, Self-Assessment and VAT Returns, Corporation Tax, Tax Investigations, Business Planning Process, Structure and Systems Setup, Auto-Enrolment Pension Setup and Admin, Switching and Management Accounts, Year End Accounts for Sole Traders, Partnerships and Ltd's, Bookkeeping, Company Formations and Secretarial Services, Software Set Up and Training (Xero), 60 Day Capital Gain Returns, Tax Planning & Investigations
Contact:
Working Hours:
Mon-Thu: 9am - 5pm
Fri: 9am - 4pm
Sat & Sun: Closed
TBR® Inspection Report: