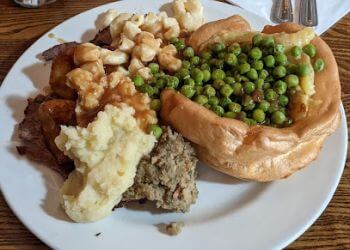 Toby Carvery in Bolton is renowned as one of the finest British dining establishments. Their reputation is built on the excellence of their roast dinners, offering a variety of tender, succulent meats alongside crispy golden roast potatoes. Toby Carvery is your go-to destination for hearty, all-day comfort food featuring carvery-style roast meats, each one meticulously cooked and basted to perfection. At Toby Carvery, you'll be delighted to find a daily selection of four famous roast meats on offer. For the little ones, all children's main dishes come with unlimited helpings of vegetables and potatoes from the carvery deck. Visit them for a delightful meal, complete with your choice of beverage and a traditional roast with all the delicious accompaniments. Secure your table at Toby Carvery Bolton and savour the epitome of British roasts. Be sure not to miss their signature Yorkie wraps and sandwiches, which are a must-try. Additionally, Toby Carvery offers a delectable assortment of vegetarian and vegan options. They also accept debit cards for your convenience.

UNIQUE FACTS:
• Dine-in
• Takeout
• Home Delivery
• Reservations
• Outdoor Seating
• Full Bar Facilities
• Television Facility
• Free Wifi Connection
• Free Parking Facilities.
Speciality:
MUST TRY DISHES: Prawn Cocktail, Soup of the Day, Mini Pigs in Blankets, Ciabatta Garlic Bread, Cheesy Mushrooms, Loaded Roast Potatoes, Poppin' Chicken, Cherry Tomato Tart Tatin, Loaded Mac and Cheese, Cherry Tomato Tatin, Gammon, Roast Pork, Roast British Turkey Club, Hunters Gammon and Turkey, Ultimate Roast Beef, Prawns, Cheese Yorkie Wrap, Broccoli and Brie Parcel, Mini Seasonal Crumble & Sticky Toffee Pudding
£Price:
Starters & Sharers Starts from £2.99
Toby Tasters Starts from £2.99
Our Famous Roast Carvery Starts from £13.79
Vegetarian, Vegan & Fish Starts from £7.49
Toby Pudding Co. Starts from £4.79
Ice Cream & Sundaes Starts from £3.99
Mini Pud & Hot Drink Starts from £4.49

Contact:
Working Hours:
TBR® Inspection Report: