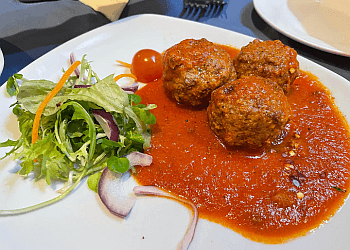 Casa Nostra is a premier destination for authentic Italian cuisine in Westhoughton, Bolton. Nestled in a contemporary dining space that is simple, light, and airy, the restaurant offers a perfect setting for gatherings before a movie night or an evening out with loved ones. The expansive menu showcases a variety of options, including pasta, pizza, classic dishes, seafood, and grill selections, all crafted with an authentic taste. Catering to families, they also provide a delightful children's menu featuring delicious Italian choices. Complementing the dining experience is a top-notch wine selection and an extensive, up-to-date food menu for patrons to relish. At Casa Nostra, they blend genuine Italian culinary delights with a welcoming and friendly atmosphere, crafting an exceptional dining experience in Westhoughton.

UNIQUE FACTS:
• Fresh Cuisine Commitment
• Authentic Italian Offerings
• Welcoming Atmosphere.
Speciality:
MUST TRY DISHES: PIZZETTE: Pane All Aglio, Bruschetta Al Pomodoro Fresco, ANTIPASTI: Melon, Zuppa Del Giorno, Fegatini Al Diavola, Funghi Fritti, Calamari Fritti, Polpette Piccanti, Scarmozza Fritti, Costolette Marco Polo, LA PIZZA: Margherita, Rustica, Pepperoni, Siciliana, Capricosa, Tropicana, Calzone Casa Nostra, Quattro Stagioni, Marinara, Americano, Meat Grill, Side Orders, Pasta E Risotti & Classico
£Price:
Meat Grill Starts from £24.95
Side Orders Starts from £4.95
Pizzette Starts from £5.95
Antipasti Starts from £6.95
La Pizza Starts from £9.95
Pasta E Risotti Starts from £11.95
Classico Starts from £14.95

Discount:
10% Off for all Takeaway Dishes
Contact:
Working Hours:
Mon-Thu: 5pm - 10pm
Fri & Sat: 5pm - 10:30pm
Sun: 2pm - 9pm
TBR® Inspection Report: