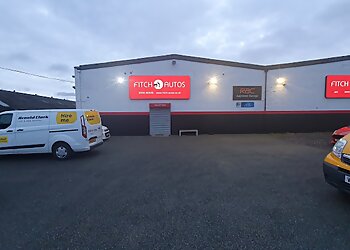 Fitch Autos is a well-established family-run garage in Walsall, proudly approved by the RAC, offering a reputation for honest and cost-effective auto repair services. With over 40 years of experience, they have firmly established themselves as one of the premier family-run garages in Brownhills. Their commitment is to consistently deliver guaranteed quality service, ensuring customer satisfaction with each visit. The heart of Fitch Autos lies in their team of expert mechanics, all based in Brownhills, who are well-versed in comprehending every facet of your vehicle. Renowned for their outstanding craftsmanship, they exclusively use high-quality parts that come with an excellent guarantee, providing you with peace of mind. Fitch Autos stands ready to handle a wide range of services, from the simplest tasks like replacing a bulb to more complex endeavours such as engine overhauls. Their skilled technicians meticulously measure and assess brake serviceability, prioritising your safety. They generously offer a free RAC MOT check and repair plan, demonstrating their commitment to customer welfare. Fitch Autos leverages cutting-edge specialist tools, premium parts, and unmatched expertise to ensure the high-quality repair of your vehicle. To further emphasise safety, they provide a complimentary brake check. For added convenience, they offer free checks for all summer-related concerns and complimentary MOT retests. Moreover, courtesy vehicles are readily available, demonstrating their dedication to customer satisfaction and ensuring you are well taken care of during your visit.

UNIQUE FACTS:
• Online Booking Available
• Most Innovative Tools
• Premium Parts
• Incredible Value And Master Technician.
Speciality:
Diesel Particulate Filter, Air Conditioning, Brakes, Car Keys, Clutch and Gearbox, DAB Radio, Diagnostic Evaluation, Exhausts and Catalysts, DPF, Diagnostics, Exhausts, Batteries, Tyres, Alignment, Summer Check & Car Battery
£Price:
MOT Service only from £40
Services from Only £75
Interim Service For Vehicles up to 1600cc - £95
Interim Service For Vehicles above 1600cc and below 2000cc £115
Interim Service For Vehicles above 2000cc and below 3000cc £125
Interim Service plus MOT For Vehicles up to 1600cc - £130
Interim Service plus MOT For Vehicles above 1600cc and below 2000cc - £150
Interim Service plus MOT For Vehicles up to 1600cc - £160
Full Service For Vehicles up to 1600cc - £165
Full Service For Vehicles up to 1600cc - £185
Full Service For Vehicles above 1600cc and below 2000cc - £205

Full Service plus MOT For Vehicles up to 1600cc - £200

Contact:
Working Hours:
Mon-Fri: 8am - 5:30pm
Sat & Sun: Closed
TBR® Inspection Report: