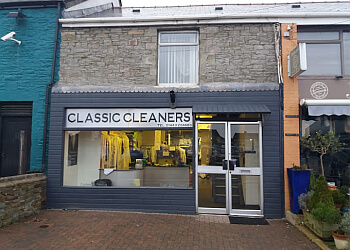 Classic Cleaners is a family-run dry cleaning establishment. They are committed to delivering exceptional service and maintaining high standards of stain removal. Offering a comprehensive range of laundry, dry cleaning, and stain removal solutions, they utilise top-quality products capable of eliminating even the most stubborn stains. Particularly adept at handling delicate garments unsuitable for regular laundry, Classic Cleaners excels in revitalising clothing, ensuring extended use for years to come. Their dry cleaning service not only refreshes garments but also effectively tackles the most challenging stains. Establishing an admirable reputation as professional launderers and expert cleaners in the Mid Glamorgan area, Classic Cleaners distinguishes itself with competitive pricing. Employing high-quality solvents and chemicals, they guarantee results of superior quality. With extensive experience, they adeptly handle the washing and repair of various items, ensuring that delicate clothing remains intact while stains and dirt are eradicated. Classic Cleaners manages all aspects of your cleaning needs, boasting a professional and knowledgeable staff that is well-trained and courteous. Offering same-day service and convenient payment options, they prioritise customer satisfaction in every interaction.

UNIQUE FACTS:
• 40 Years Experience
• 10 + Dedicated Cleaners
• 100 % Satisfied Customers
• Friendly Team Members
• High-quality Service
• Competitive Pricing
• Save Time And Money.
Speciality:
Dry Cleaning, Suits, Designer Garments, Ties, Duvets, Linens, Laundry Services, Evening and Formal Wear, Quilts, Curtains, Soft Furnishings, Upholstery, Bridal, Leather Jackets, Wedding, Vintage Clothing, Repairs & Alterations
Contact:
Working Hours:
Mon-Tue: 7:30am - 4pm
Thu-Sat: 7:30am - 1pm
Wed & Sun: Closed
TBR® Inspection Report: