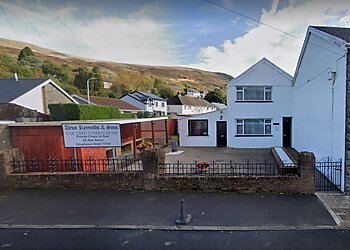 Dewi Reynolds and Sons Funeral Directors are dedicated to providing the highest standard of funeral care for you and your loved one. They understand that this is a challenging time for you and your family and strive to ease the burden by taking care of every detail. They offer the flexibility for you to make choices that honour your loved one's memory. This includes decisions about music, transportation, flowers, donations, and other aspects that make the day special and unique. Their goal is to organize a funeral that reflects how your loved one lived their life. Dewi Reynolds and Sons Funeral Directors specialize in all types of funerals, whether they involve burials or cremations or religious, contemporary, humanist, or woodland ceremonies. Their dedicated funeral staff is available 24 hours daily to support and assist.

UNIQUE FACTS:
• Prepaid Funeral Plans
• Bespoke Transport Options
• All Faiths And Cultures.
Speciality:
Cremation, Religious, Contemporary, Humanist or Woodland Ceremony, Burial, Chapel of Rest, Hearses and Bespoke Transport Options, Viewing, Hearses, Funeral Arrangement, Memorials & Tributes
£Price:
ATTENDED FUNERAL (funeral director's charges only): £2,160
Legal and Administrative Arrangements: £800
Collecting and transporting the deceased person (within 15 miles): £203
Care of the deceased person: £563
Suitable wood effect veneer coffin: £250
Viewing for family and friends (by appointment): £5
Transport to the cemetery or crematorium (within 20 miles): £339

Contact:
Working Hours:
Mon-Fri: 9am - 5pm
Sat & Sun: Closed
TBR® Inspection Report: