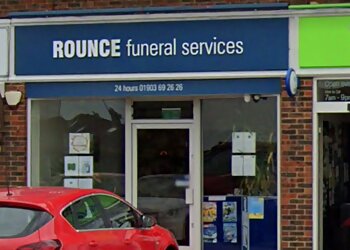 Rounce Funeral Services, an independent and family-owned funeral director serving East and West Sussex, stands as a multi-award-winning establishment with over 15 years of dedicated service. They are committed to providing the highest levels of service, emphasizing personal care, dignity, and respect throughout the funeral process. As proud members of the Society of Allied and Independent Funeral Directors (SAIF), Rounce Funeral Services upholds professional standards. Beyond traditional funeral services, they go the extra mile by assisting with press release insertion and coordinating floral tribute ordering, supervision, and final distribution. Rounce Funeral Service is dedicated to offering peace of mind through a blend of old-fashioned care and respect. With 24-hour support and assistance leading up to the funeral, their aim is to ensure a comforting and supportive experience for those they serve.

UNIQUE FACTS:
• Expert Funeral Director
• Crematorium Optioins.
Speciality:
Arrangements, Obituary, Cremation, Burial, Crematorium, Funeral Vehicles, Flowers, Planning, Direct Cremation, Veterans Funerals, Highland Piper, Coffins, Summary Checklist, Bereavement, Graveside, Religious or Non-Religious Service & Horse-Drawn Hearse
£Price:
Simple burial from £4049
Buy a funeral plan from £1644
Direct cremation for £1395
Hastings Crematorium for £2713

Award:
The Good Funeral Awards in 2017 & 2019
Contact:
Working Hours:
Mon-Fri: 9am - 4pm
Sat & Sun: Closed
TBR® Inspection Report: