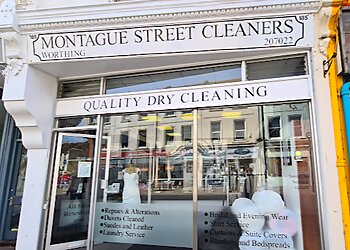 CALL
MONTAGUE STREET CLEANERS
Since 1982
Montague Street Cleaners is an independent dry-cleaning establishment in Worthing. They are dedicated to delivering a friendly service of high quality at a reasonable price. Their commitment to excellence is evident in their use of cutting-edge dry-cleaning technology, employing top-tier solvents, soaps, and stain removers. Every garment entrusted to them undergoes meticulous re-texturing and is personally hand-finished by an experienced presser. With a team boasting extensive experience in the dry-cleaning industry, including the owner and staff, Montague Street Cleaners guarantees a service that caters to both you and your garments. Specialising in the cleaning of bridal wear and prom dresses, their fully experienced staff takes pride in offering quality services at a fair and competitive price. The commitment to providing an outstanding cleaning experience is reflected in their use of the highest-performance solvents and chemicals. Choose Montague Street Cleaners for a comprehensive and unparalleled dry-cleaning service.

UNIQUE FACTS:
• Small Friendly Business
• Same Day Service Available.
Speciality:
Dry Cleaning, Duvets, Shirt, Trousers, Suede, Leathers, Bridal Wear, Chair Cover, Bedding, Prom Dresses, Laundry Service, Alterations, Repairs & Curtains
£Price:
Trousers £7
Skirt - £7
Jacket - £8
Dress - £9 - £12
Suit - £15
Skirt suit - £7
3/4 Coat - £10.50
Long Coat - £12.50
Shirt Service - £2.75 - £3.50

Contact:
Working Hours:
Mon-Tue, Thu-Fri: 8am - 5pm
Wed: 8:30am - 1pm
Sat: 8:30am - 4pm
Sun: Closed
TBR® Inspection Report: