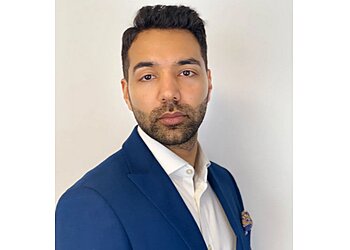 Amar Ali is the founder of Reiss Edwards Solicitors. He is also a supervising solicitor specialising in immigration law. He is a renowned expert who frequently delivers presentations on topics related to the Points-Based System and Business Immigration. Amar has successfully represented a clientele exceeding 9000 individuals, including SMEs, investors, some of the world's largest tech companies, and individual private clients. His clients and colleagues alike have commended his exceptional legal acumen, noting his ability to elucidate complex issues with remarkable simplicity. Various directories consistently recognise Amar Ali as one of the premier immigration solicitors in London. Under his strategic leadership, Reiss Edwards Solicitors has ascended to a prominent position as a leading Immigration Law Firm. The firm has garnered awards for its outstanding client care, adept problem-solving, and strategic solutions. Their team of solicitors is dedicated to providing top-notch support to streamline the visa application process and minimise stress for their clients.

UNIQUE FACTS:
• Provide Honest Advice And High-quality Service At Reasonable Fees
• 6,000 Satisfied Customers
• 18 Countries They Work With
• 20-minute Free Consultation.
Speciality:
Skilled Worker Visa, Scale-up Visa, Global Talent Visa, High Potential Individual Visa, Health and Care Worker Visa, Sports Person Visa, Minister of Religion Visa, Temporary Work Visa, Youth Mobility Scheme Visa, Spouse, Fiance, Tier 2 Visas, EEA and EU, Refusals, Innovator, Permanent Residency, Human Rights Law, Sponsorship License, Domestic Worker Visa, Appeal, Immigration Judicial Review, Asylum and Human Rights, Naturalisation, British Citizenship and Passport Application, Bail Application, Temporary Admission & Investors
£Price:
Consultation (for up to 30 minutes): £100
Naturalisation or Registration: £1,000
PBS Dependant: £1,500
EEA Applications: £2,000 Married and Unmarried Partner applications: £2,000 Child Dependant Applications: £2,000 ILR Applications: £2,000 Tier 1 Entrepreneur and Investor Applications: £3,500 Tier 1 Graduate Entrepreneur: £2,000 Tier 2 Applications / Skilled Worker: £2,000 Tier 4 Applications: £1,000 Tier 5 Applications: £1,000

Contact:
Working Hours:
Mon-Fri: 9am - 5:30pm
Sat & Sun: Closed
Registration 08991171|SRA NO 639374|548405
TBR® Inspection Report: