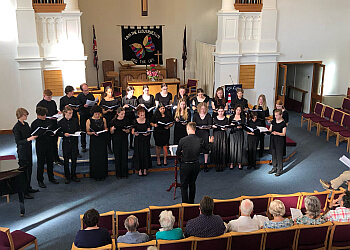 Aylesbury Music Centre, located in Aylesbury Vale, UK, proudly holds the distinction of being one of the oldest and most highly regarded music schools in the region. Their extensive offerings encompass various groups, choirs, and ensembles, catering to young musicians aged 4 to 18. These programs are designed to facilitate seamless progression from novice to advanced players. Their leading provider of music education, Aylesbury Music Centre, excels in delivering both individual and group tuition, serving schools and their Music Centres. Their comprehensive approach ensures that lessons are available for individuals of all ages and abilities. The dedicated staff at Aylesbury Music Centre remain current with the latest developments in music education, tailoring classes to meet the specific needs of each student.Furthermore, the music centre organises various concerts, events, and performance opportunities, allowing students to showcase their talents and gain valuable experience. Staff members receive comprehensive training during their induction process to maintain the highest music education standards. Beyond serving young musicians, Aylesbury Music Centre extends its offerings to individuals of all ages through its adult choir and ensemble programs. In summary, Aylesbury Music Centre is a venerable institution with a rich history, offering various music education opportunities for students of all ages and skill levels.

UNIQUE FACTS:
• Friendly And Experienced Staff
• Children Safe And Happy
• Authority And Safeguarding.
Speciality:
Acoustic Guitar, Violin, Double Bass, Viola, Cello, Trumpet, Trombone, Baritone, French, Tenor HornBassoon, Oboe, Flute, Clarinet, Saxophone, Cornet, Electronic Keyboard & Piano Lessons
£Price:
Individual lessons
20 minutes: £170
30 minutes: £254
Music Centre membership: £85 per term
Small Group: £115
Large Group: £84

Discount:
20% reduction for 2nd child
40% reduction for 3rd child
60% reduction for each subsequent child
View Coupon
Contact:
Working Hours:
TBR® Inspection Report: