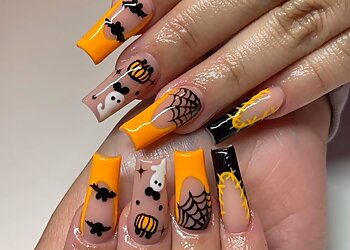 Queen Nails is a professional nail and beauty salon on High Street in Scunthorpe, North Lincolnshire, and offers a serene and welcoming environment for all your beauty needs. Meticulously delivered by well-trained and certified beauty technicians, their treatments are designed to enhance your appearance and well-being. The salon is dedicated to leaving you feeling refreshed and revitalised after every visit. With a specialisation in acrylic and gel powder nails, luxury pedicures, and various other nail and beauty treatments, Queen Nails ensures a comprehensive range of services to cater to diverse preferences. Utilising cutting-edge technology, the salon goes beyond traditional offerings to provide modern and effective beauty treatments. Whether it's a relaxing nail session or an advanced beauty treatment, Queen Nails combines expertise with a friendly atmosphere to deliver an exceptional experience for their clients.

UNIQUE FACTS:
• Skilled Nail Technicians
• Exceeding Expectations.
Speciality:
Acrylic Clear/White, Manicure, Soak Off, Toes Extensions, Pedicure, Overlay, Gel Powder and Colour, Pink and White, Glitter Powder, French-Polish, Toes Polish, Polish Change, Nail Art, Diamonds & Eyebrow Waxing
£Price:
Acrylic Clear/White: £25
Overlay: £23
Gel Powder: £28
Gel Colour: £15
Pink & White: £30
Glitter Powder: £30
Manicure: £10
Soak Off: £10
Soak Off & Redo: £28
Toes Extensions: £30
Pedicure: £20

French Polish: £8
Polish Change: £6
Nail Art from: £5
Diamonds (x10): £3
Eyebrow/Lip/Chin Waxing: £5
Toes Polish: £10

Contact:
Working Hours:
Mon-Sat: 8am - 7pm
Sun: 9am - 6pm
TBR® Inspection Report: