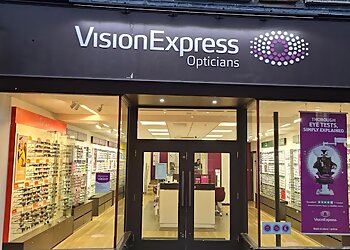 Vision Express Opticians-Newbury offers comprehensive eye tests that are presented in a simple and understandable manner, all provided with the trusted care you can rely on. Their inventory includes a diverse selection of glasses, sunglasses, and contact lenses, ensuring that you receive both great value and complete peace of mind. Their team of opticians is readily available to assist you in choosing the ideal spectacles that match your style and budget. In addition to their services, Vision Express Opticians provides contact lens check-ups and the convenience of a free contact lens trial. All their glasses and sunglasses are accompanied by a valuable free lifetime servicing package, which includes minor repairs at no additional cost. Moreover, they offer a free 100-day returns guarantee, clearly explained to ensure you're completely comfortable with your purchase. To enhance convenience, they provide free delivery for all prescription glasses orders to an address of your choice, with a turnaround time of 10-15 working days, subject to prescription validation. Vision Express Opticians-Newbury is your trusted partner for quality eyecare and eyewear.

UNIQUE FACTS:
• In-store Shopping, Pick-up And Delivery
• Contact Lens Check Up & Free Trial
• Transitions & Blue-violet Light Lenses Available
• Payment Methods: American Express, Maestro, Master Card, Visa & Klarna.
Speciality:
Eyeglass Accessories, Sunglasses, Varifocal, Bifocal, Multifocal, Anti-Reflective and Adaptive Lenses, Men's, Women's, Children's and Teen's Glasses, Eye Tests, Children Eye Health, Single Vision, Scratch-Resistant Lenses, Short and Long Sight, Astigmatism, Presbyopia, Conjunctivitis & Contact Lenses
£Price:
Breakage & Loss Protection with Designer Glasses from £129

Discount:
Contact:
Working Hours:
Mon-Sat: 9am - 5:30pm
Sun: 10am - 4pm
TBR® Inspection Report: