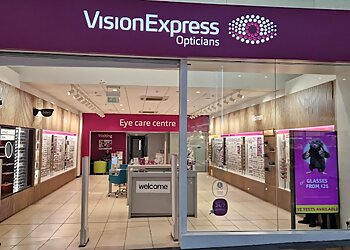 Vision Express Opticians is a locally owned and operated establishment in Warrington. Their primary mission is to deliver quality eye care services and a diverse collection of eyewear at highly competitive prices. Their inventory encompasses a wide selection of lenses, glasses, sunglasses, and contact lenses from various renowned brands. The expert team at Vision Express Opticians is committed to providing professional eye tests, utilizing advanced OCT 3D eye scan technology. They specialize in eye tests for both children and adults, and their extensive collection includes a wide array of designer glasses to cater to various tastes and budgets. Furthermore, for in-store eyeglass purchases, they offer a 100-day return policy. The shop is fully wheelchair accessible, ensuring that its services are inclusive and accessible to all. Vision Express Opticians strives to meet the diverse eye care needs of the community they serve. For your complete peace of mind, they offer a 100-day return guarantee and lifetime servicing for all their eyewear. The available brands include Palazzo, Vogue, Tommy Hilfiger, and Joules.

UNIQUE FACTS:
• In-store Shopping, Pick-up And Delivery
• Contact Lens Check Up & Free Trial
• Adult Eye Test And OCT Scan
• Transitions & Blue-violet Light Lenses Available
• Payment Methods: American Express, Maestro, Master Card, Visa & Klarna.
Speciality:
Eye Health Screening, Children's Eye Tests, Glasses Repairs, Men's Glasses, Blue Light Filters, Polarised Sunglasses, Eye Test and Screening, Daily Disposable Contact Lenses, Children's Glasses, Monthly Reusable Contact-Lenses, Contact Lens Solution, Eye Drops, Designer Sunglasses, Children's Sunglasses & NHS Free Eye Test
£Price:
Breakage & Loss Protection with Designer Glasses from £129

Discount:
Contact:
Working Hours:
Mon-Sat: 9am - 5:30pm
Sun: 10am - 4pm
TBR® Inspection Report: