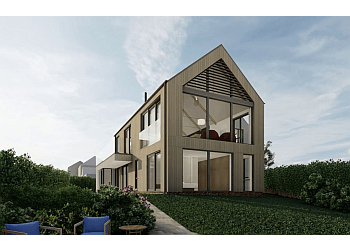 Hoot Architecture is a distinguished architectural practice based in Durham, known for its professionalism and status as a registered member of the Royal Institute of British Architects (RIBA). Their unwavering passion lies in the creation of exceptional buildings and spaces, regardless of the project's size or budget. At the helm of Hoot Architecture is Stu Kent, a highly experienced architect with a notable portfolio in residential and commercial design, both within the UK and internationally. Stu's leadership reflects the practice's commitment to bringing a wealth of expertise and innovative design solutions to each project they undertake. One distinctive aspect of Hoot Architecture's approach is their initial focus on active listening to their clients. They prioritize understanding their clients' aspirations and requirements, considering this the foundational step in their design process. Once this crucial phase is completed, they proceed with the architectural drawings, ensuring that the client's vision and needs are at the forefront of their work. Hoot Architecture distinguishes itself further through its use of advanced technology. They employ 3D computer modelling for project design, allowing them to thoroughly test concepts and refine intricate details. This rigorous approach not only fosters creativity but also ensures that the design solutions remain cost-effective and feasible. The team at Hoot Architecture is well-equipped to take on a diverse range of projects. Their portfolio encompasses small extensions, large residential properties, commercial buildings, and even master planning, demonstrating their versatility and capability to handle various architectural challenges.

UNIQUE FACTS:
• Riba-registered Practice
• Use Of 3d Computer Modelling
• Client-centric Approach
• Comprehensive Service Portfolio.
Speciality:
architecture, Project Management, Interior and Architectural Design, Feasibility Studies, Planning Appeals, Dimensional Surveys, Building Regulations, 3 D Computer-Generated Imagery, Specification, Tendering, Renovations, Contract/ Site Administration, Industrial, Residential & Commercial Projects
Contact:
Working Hours:
Mon-Fri: 8:30am - 5pm
Sat & Sun: Closed
TBR® Inspection Report: