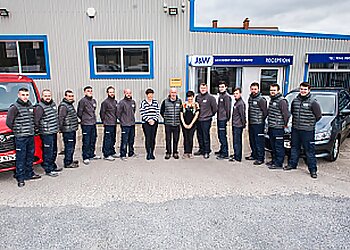 J & W Body Repairs, based in Belfast, United Kingdom, is a family-operated business that specializes in a wide range of car repair services. With nearly 45 years of experience in the accident repair industry, they have firmly established themselves as a trusted and reputable establishment. Positioned strategically within East Belfast, J & W Body Repairs has earned a stellar reputation for their exceptional workmanship. Their highly skilled team is dedicated to restoring vehicles to their original condition, delivering results that inspire confidence. To cater to the diverse needs of their customers, they offer a variety of courtesy vehicles, including options ranging from small cars to family-sized vehicles, vans, and 4x4s. Moreover, they are well-equipped to assist with comprehensive insurance claims, ensuring a hassle-free process for their clients. J & W Body Repairs is committed to providing personalized service. Their estimators take the time to inspect your vehicle thoroughly, engaging in discussions with you to plan the repair process. They also collaborate with Ryan Donnelly Recovery, offering a 24-hour, seven-day-a-week, 365-day-a-year recovery service, further enhancing their commitment to customer convenience and satisfaction.

UNIQUE FACTS:
• Accident Management
• Skilled Workmanship
• Quality Guaranteed
• Highly Trained And Skilled Work Force.
Speciality:
Car Scratch and Bumper Repairs, Spraying, Dent Removal, Body Repair, Courtesy Car, Estimations, Taxi Replacement, Claims Management, Customer Loyalty Scheme & Recovery
Contact:
Working Hours:
Mon-Fri: 9am - 5pm
Sat & Sun: Closed
TBR® Inspection Report: