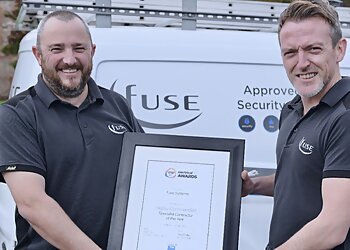 Fuse Fire & Security Ltd is a prominent in the security system industry in Belfast. Their main goal is to promote a sense of tranquillity by delivering reliable systems and drawing upon their well-established expertise. Their unwavering commitment to providing top-notch customer service sets them apart. With a wealth of knowledge covering various intruder alarm system services, they offer an extensive range of cutting-edge technologies and professional services to safeguard your property, assets, and, most importantly, your peace of mind. Their state-of-the-art commercial CCTV solutions provide unmatched surveillance capabilities. These advanced systems offer 24/7 monitoring, high-definition video footage, and intelligent analytics. The skilled and experienced team at Fuse Systems is steadfast in their dedication to delivering excellent customer service. They offer a versatile selection of security systems and solutions, ensuring the safety of your home or business. Additionally, they provide a diverse range of automation systems and solutions. With their comprehensive approach, they can provide you with a complete service package, covering design, supply, installation, and maintenance.

UNIQUE FACTS:
• 10+ Years Of Experience
• Accredited Security Systems & Alarms Inspection Board (SSAIB)
• Highly Proficient & Skilled Team
• High-Quality System
• Insurance-Approved Installations
• Customer Focused.
Speciality:
Intruder Alarms, CCTV, Access Control, Commercial, Intercom, Maintain, Install, Service and Upgrade, Manned Security, Fire, Voice Alarm, Fire Extinguishers, Audio, Visual, Electrical & Toilet Alarms Systems
Contact:
Working Hours:
TBR® Inspection Report: