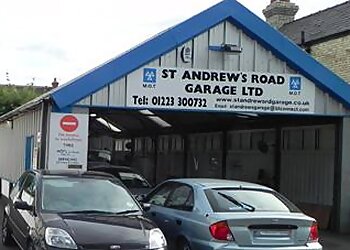 St. Andrew's Road Garage Ltd., located in Cambridge, is a welcoming local garage that prides itself on its friendly and professional approach. With a dedicated team comprising three qualified MOT testers and five qualified mechanics, they are well-equipped to cater to a wide range of automotive needs. Distinguishing themselves from main dealers, St. Andrew's Road Garage offers a more cost-effective solution while maintaining a high standard of work quality. Central to their service philosophy is the cultivation of strong and honest relationships with their clients, underscoring their commitment to taking care of vehicles that hold a special place in the hearts of their owners. As a comprehensive automotive service provider, St. Andrew's Road Garage serves as a one-stop shop for services, tires, MOTs, and all related vehicle requirements. They go the extra mile to enhance customer convenience by offering free MOT reminders sent directly to your mobile phone and email. Additionally, their pick-up and drop-off service simplifies the maintenance process for customers. St. Andrew's Road Garage takes pride in their unwavering dedication to customer service, commitment to delivering top-quality work, and their ability to provide exceptional value. St. Andrew's Road Garage is a local establishment in Cambridge renowned for its friendly and professional service. With a qualified team of MOT testers and mechanics, they offer a cost-effective alternative to main dealers while maintaining a high work standard. Their focus on building strong client relationships and their comprehensive service offerings make them a trusted choice for automotive needs in the area.

UNIQUE FACTS:
• Free Mot Retest
• Free Mot Reminders Sent To Your Mobile Or Email
• Member Of The Good Garage Scheme.
Speciality:
Air Conditioning Service, Exhausts, Diagnostics, Oils and Fluids, Brakes, Batteries, Wheel Alignment, Tyre Fitting, Tyre Inspection and Balancing, MOT Testing & Suspension
£Price:
MOT and small Service from £174
MOT and Full Service from £295

Contact:
Working Hours:
Mon-Fri: 8:30am - 5pm
Sat: 8:30am - 12pm
Sun: Closed
TBR® Inspection Report: