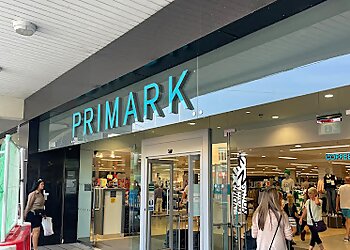 Primark Stockport is a leading fashion chain in Stockport, offering an extensive range of clothing and accessories for individuals of all ages, along with homeware items. From high-quality essentials to standout fashion statements, they cater to a diverse customer base, spanning trendsetters to multi-generational families. Primark is the go-to destination for this season's essential fashion items. You can explore various products that align with your budget and lifestyle, and they even offer tax-free shopping for added savings. Additionally, the store features a café where you can refresh yourself during your shopping experience. Primark is a globally recognised brand with a substantial presence of over 370 stores in twelve countries across Europe and America. They also provide gift cards with convenient redemption options. Primark regularly introduces sustainable cotton products and cruelty-free beauty ranges under their Primark PS brand, ensuring you have access to products that align with your values and preferences. For amazing fashion at unbeatable prices, visit your local Primark Stockport.

UNIQUE FACTS:
• Facilities:
• Click And Collect
• Free Wifi Available
• Parking
• Pre-loved Clothing Recycle Box
• Wheelchair Access.
Speciality:
Men's and Kids' Clothing, Jackets, Socks, Tops, Lingerie, Underwear, Pyjamas, Dresses, Jumpsuits, Playsuits, Coats, Beauty Skincare, Cosmetics, Shorts, Confectionery, Footwear, Nightwear, Hosiery, Skirts, Homeware, Swimwear, Beachwear, Jumpers, Sweaters, Jeans, Luggage, Travel Accessories, Women's, Tights & T-Shirts
£Price:
WOMEN:
Tops & T-Shirts Starts from £4.00
Trousers & Leggings Starts from £18.00
Jumpers & Cardigans Starts from £23.00
Coats & Jackets Starts from £28.00
Boots Starts from £20.00
KIDS:
Tops & T-shirts Starts from £6.00
Trousers & Leggings Starts from £8.75
Jumpers & Cardigans Starts from £7.00
Coats & Jackets Starts from £14.00

Hoodies & Sweatshirt Starts from £9.00
MEN:
Joggers Starts from £6.00
Hoodies & Sweatshirts Starts from £20.00
Trousers Starts from £18.00
Kem Starts from £12.00
Coats & Jackets Starts from £12.00

Contact:
Working Hours:
Mon-Sat: 9am - 5:30pm
Sun: 10am - 4:30pm
TBR® Inspection Report: