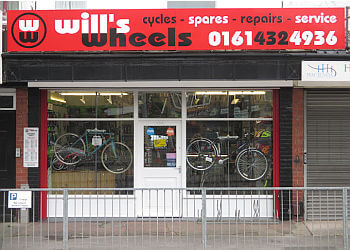 CALL
WILLS WHEELS CYCLE SHOP
Since 1950
Wills Wheels Cycle Shop is a classic bike store overseen by Will Wright for the past two decades situated in Stockport. The shop boasts a specialized selection of road, off-road, all-purpose, and commuter bikes, along with various accessories and mechanical services. Their skilled mechanics provide high-quality repairs and maintenance services, ranging from minor adjustments to complete custom bike constructions. Additionally, they offer a comprehensive range of mechanical services, including wheel replacements, gear adjustments, chain installations, saddle and bearing replacements, rim and brake repairs, cable adjustments, tire replacements, rack installations, and handlebar fittings. Wills Wheels is dedicated to offering expert advice and competitive packages tailored to diverse budgets.

UNIQUE FACTS:
• Quick, Easy And Fair Warranties
• Good Stock of Spare Parts.
Speciality:
Ridgeback, Genesis, Kinesis, Road, Off-Road, Commuter Bikes, Accessories & Repair Services
£Price:
Gear Adjust: £15
Re-cable Gear and Adjust: £12
Chain Fitting: £5
Hydraulic brakes full bleed: £35
DISC brake mounts faced: £30
Wheel truing: £10 - £15

Contact:
Working Hours:
Tue & Fri: 8:30am - 5pm
Wed: 11:30am - 7:30pm
Thu: 8:30am - 7:30pm
Sat: 8:30am - 1pm
Sun: Closed
TBR® Inspection Report: