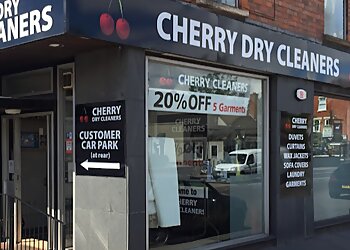 Cherry Dry Cleaners is a locally owned establishment that takes pride in delivering top-notch dry cleaning services situated in Worcester. The shop provides a comprehensive dry cleaning experience at a reasonable cost, specializing in wet care processing for various garments and household items. Catering to both domestic and commercial needs, their team of experienced, professional, qualified, and friendly staff ensures efficiency, reliability, and exceptional service. The shop stays ahead of the curve by staying updated on the latest cleaning methods and techniques, offering customers a superior cleaning experience. Known for their attention to detail, they execute dry cleaning services to the highest standards and even provide a full re-waxing service for waxed jackets. With a team that is experienced, knowledgeable, and always ready to assist, Cherry Dry Cleaners guarantees customers the highest standard of dry cleaning and laundry services in a welcoming environment. Additionally, they offer convenient car parking facilities.

UNIQUE FACTS:
• High Quality
• 100% Customer Satisfaction
• Affordable Prices.
Speciality:
Dry Cleaning, Stain Removal, Jackets, Duvet, Blankets, Sofa Covers, Suits, Shirt, Bedding Laundry, Curtains, Household Items, Formal Wear, Linens, Pressing Service, Wedding Dress, Skirts, Evening Dresses, Coats, Trousers & Rewaxing
Contact:
Working Hours:
Mon-Wed, Fri: 10am - 3pm
Thu & Sat: 10am - 2pm
Sun: Closed
TBR® Inspection Report: