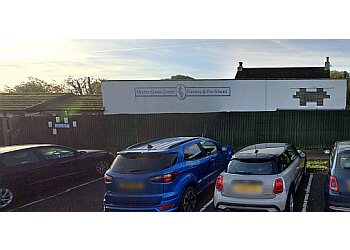 Mother Goose Corner Nursery & Pre-School is a nurturing, family-operated childcare centre located in the heart of Huntingdon. This facility offers comprehensive full-day and wrap-around care services to children ranging from birth to primary school age. Their staff, known for being both professional and compassionate, not only possess impressive qualifications but also exude a high level of enthusiasm. Collectively, they bring many years of diverse and practical experience to their roles. Mother Goose Corner Nursery & Pre-School is guided by a philosophy that revolves around providing exceptional wrap-around care, not only to support families but also to encourage their young charges to develop into self-assured and inquisitive individuals with strong, healthy bodies. The safety, security, and happiness of their children, as well as their meaningful and interactive learning experiences, are paramount. Additionally, they enhance their offerings by including French classes as part of the educational experience.

UNIQUE FACTS:
• They Offer Swimming Sessions
• Excellent Child Care.
Speciality:
ACTIVITIES: Indoor and Outdoor Play, Child Care Center, Computers and Technology, Private School, Physical Development, Preschool, Day Care, Mathematical Awareness, Talking and Listening & Spring and Summer Camp Program
Contact:
Working Hours:
Mon-Fri: 7:30am - 6pm
Sat & Sun: Closed
TBR® Inspection Report: