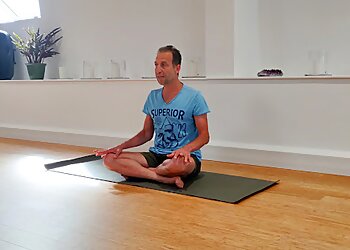 Hakan Yoga has been a dedicated presence in the Huntingdonshire region for many years. Recognised as a highly respected and knowledgeable yoga class leader, Hakan is celebrated for creating a supportive and enjoyable atmosphere. His classes are known for their adaptability, tailored to suit the energy levels and abilities of each participant. Hakan's overarching goal is to equip individuals with skills to manage stress, care for their bodies, and nurture their minds. His teaching philosophy seeks to inspire students both on and off the yoga mat. Holding various certifications, including Hot Yoga, Restorative Yoga, and Yin Yoga, Hakan Yoga currently offers classes in Brampton, Cambridge, Huntingdon, Needingworth, and St Ives.

UNIQUE FACTS:
• Improves Flexibility, Strength And Endurance
• Helps Calorie Burn And Muscle Development
• Increases Mental Focus.
Speciality:
One-to-One Sessions, In-Person Yoga Classes, Drop-in Classes & Online Classes
£Price:
drop-in £10.00 5 class pass £45.00

Contact:
Working Hours:
Mon: 6:30pm - 7pm
Tue: 6:30pm - 7:30pm
Wed: 10am - 1pm
Sun: 8am - 11:15am
Thu-Sat: Closed
TBR® Inspection Report: