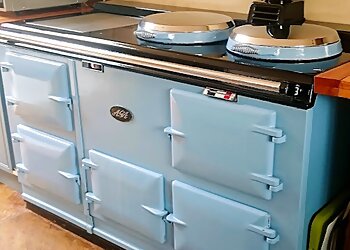 Oven & Range Cleaning uses a unique system that allows them to work by your oven, minimizing disruption and keeping your front door closed for the safety of your children and pets. As locals and independent professionals, they take pride in their good reputation and have received many recommendation calls. Their biodegradable and non-caustic method is safe for septic tank drainage, and they use an all-electric car to reduce their environmental impact. Restoring your ovens and appliances to a sparkling polished finish gives them pride of place in your kitchen. Contact them to support a local and environmentally conscious business, speak to a real person, or leave a message for a callback.

UNIQUE FACTS:
• Excellent Customer Satisfaction
• Saturday Appointments At No Extra Charge
• Ensuring A Tidy, Stress-free Result
• Clean Ovens In Apartments And Flats
• High Quality And Trustable Service.
Speciality:
Cleaning Ovens, Range Ovens, Cast Iron Range Cookers, Microwave Ovens, Kitchen Appliances: Hobs & Extractor Fan Units Cleaning

Serving Locations: Hereford, Ross-on-Wye, Monmouth & Forest of Dean
£Price:
Single Oven Starts from £60
Double Oven (2 Doors, 1 Above the Other) Starts from £70
90 Cms Range Starts from £100
100 Cms Range Starts from £110
110 Cms Range Starts from £115
Aga, Rayburn, Esse, Etc:
2 Oven Aga Starts from £110
3 Oven Aga Starts from £120
Aga Companion Unit/Integrated Unit Starts from £80
Hobs and Extractors:
4 ring gas or electric Starts from £25

5 ring gas or electric Starts from £35
6 rings or more Starts from £45
Ceramic hob Starts from £15
Standard extractor(including grease filter change where applicable) Starts from £25
Large extractor(including grease filter change where applicable) Starts from £40
Others:
microwaves Starts from £25-£55
Clean grill pan (each) Starts from £0 – £10
Replace oven bulb Starts from £5
Replace extractor bulb Starts from £5

Contact:
Working Hours:
Mon-Fri: 9am - 5pm
Sat & Sun: Closed
TBR® Inspection Report: