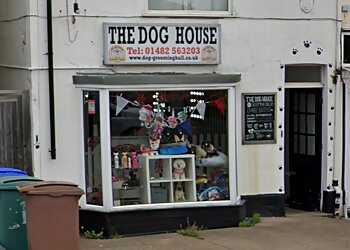 The Dog House Grooming Salon is the ultimate haven for pampered pets, meticulously crafted to offer a serene and rejuvenating experience. Here, your beloved pets are groomed, pampered, and refreshed with the utmost care. They utilise top-notch products in their state-of-the-art, cage-free grooming salon, demonstrating their unwavering commitment to your dog's well-being. Their expertly trained groomers prioritise animal welfare and consistently deliver high-quality service. The health and hygiene of dogs are given the utmost importance. They take immense pride in providing exceptional service to their clients and are proud members of the City and Guilds and British Dog Groomers Associations. Their treatments are administered by seasoned professionals with extensive experience in the grooming industry. In addition to grooming services, they offer a diverse selection of harnesses, leads, and collars in various sizes and colors for dogs. To make things even more convenient for you, they also provide pick-up and drop-off services.

UNIQUE FACTS:
• Members Of The Pet Care Trust
• Professional Dog Grooming Service
• Doggy Boutique.
Speciality:
Full Grooms, Sanitary Trim, De Matting, Dog Bathing, Drying, Brushing, Dog Clipping & Scissor Finishing, Hand Stripping, Eyes & Ears Cleaned, Nail Clipping and Trimming & Puppy Grooming
£Price:
Nail Clipping:
15 Minutes £6

Contact:
Working Hours:
Mon-Sat: 9:30am - 5:30pm
Sun: Closed
TBR® Inspection Report: