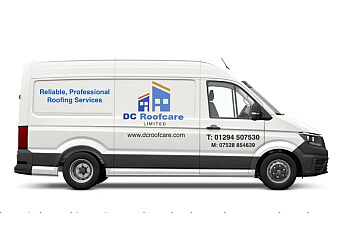 CALL
DC ROOFCARE LIMITED
Since 1998
DC Roofcare Limited is the roofing service provider in North Ayrshire with a local touch, delivering roofing solutions for a span of over 25 years. Their service spectrum covers a wide range of quality roofing solutions throughout Ayrshire. These services encompass everything from roof repairs, new roof installations, to the fitting of maintenance-free gutters and fascias. Additionally, they excel in roughcasting and external wall rendering, ensuring a holistic approach to your roofing needs. At DC Roofcare Limited, they exclusively employ top-notch materials that promise enduring performance. Their commitment to excellence is underscored by the application of high-quality materials to maintain the highest standards. They place a strong emphasis on providing exceptional customer service to guarantee that all projects are completed punctually and within budget constraints. For added peace of mind, all of their work is fully insured and backed by guarantees. Their services extend to 24/7 emergency call-out support, ensuring assistance at any time. Additionally, they are happy to provide complimentary, no-obligation quotations for your convenience.

UNIQUE FACTS:
• Free Quotes
• Fully Insured And Guaranteed
• Quality Roofing
• Available 7 Days In A Week.
Speciality:
New and Flat Roofs, Roof Coatings, Roof and Chimney Repairs, Fascias and Gutters & Wall Coatings
Contact:
Working Hours:
TBR® Inspection Report: