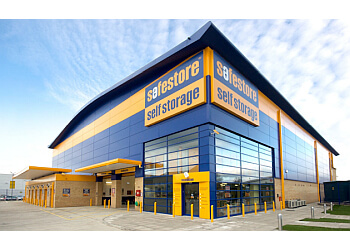 Safestore Self Storage is deeply committed to delivering an unparalleled self-storage experience in Bolton, England. Their comprehensive range of storage solutions spans an impressive spectrum of sizes, catering to your diverse needs, from compact 10 sq ft lockers to expansive warehouse-sized rooms exceeding 500 sq ft. Whether you're in the midst of a household move or require secure space for your entire inventory and business equipment, Safestore has you covered. Notably, Safestore proudly boasts the lowest price guarantee at most of its UK locations, assuring you of the most competitive rates. During regular operating hours, access to your storage unit is completely free, and should you require access outside these times, they are more than willing to accommodate your needs. Moreover, Safestore offers the added convenience of 24-hour access, a complimentary forklift truck service, and an assortment of trolleys, boxes, and top-quality packaging materials to facilitate your storage endeavours. With Safestore, your storage needs are not just met but exceeded.

UNIQUE FACTS:
• Helpful Staffs
• 24-hour Cctv Security
• Affordable Costs
• Extensive Service.
Speciality:
Purpose Built Store, Self Storage, Personal, Business, Student, Furniture, Life Event, Luggage, Household, Nationwide, Office Space, Equipment, Stock, Bulk, Document & Warehouse Storage
Discount:
50% off for 8 weeks with online booking
Contact:
Working Hours:
Mon-Sat: 8am - 6pm
Thu: 8am - 8pm
Sun: 10am - 4pm
TBR® Inspection Report: