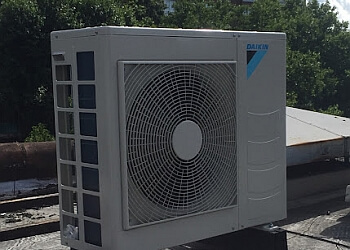 Seasonal Control Ltd Air Conditioning Services is a dynamic air conditioning business based in Wycombe. Exemplifying a commitment to excellence, they offer comprehensive AC services tailored for both local businesses and domestic properties. Their dedication to delivering outstanding customer service and top-tier craftsmanship is evident in every project they undertake. Boasting a team of highly trained and fully qualified professionals, they stand ready to provide expert guidance and advice throughout the entire process of fulfilling your air conditioning requirements. Catering to a diverse clientele, they extend their services to various industries, including hotels, retail, healthcare, offices, data centres, and light commercial establishments. Their versatility and expertise position them as a reliable partner capable of addressing the unique needs of different sectors, ensuring optimal climate solutions with precision and care. Their engineers undergo training in the UK and hold full qualifications, along with the required industry certifications.

UNIQUE FACTS:
• Customer Satisfaction Guaranteed
• Owner-managed Business
• Rapid Service
• Safety & Reliability
• Innovative Solutions.
Speciality:
Commercial/Domestic Air Conditioning Repair, Installation, Maintenance, Breakdowns, Services & Refrigeration
Contact:
Working Hours:
Mon-Fri: 8am - 5pm
Sat & Sun: Closed
TBR® Inspection Report: