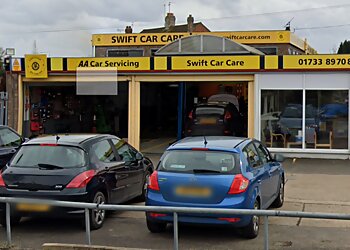 Swift Car Care, located in Peterborough, stands as a family-run business committed to delivering a range of essential automotive services, including MOTs, servicing, and repairs, catering to all car makes and models. While they do not service fully electric models, they provide comprehensive assistance for conventional vehicles. As an independent garage, Swift Car Care is dedicated to offering customers a high level of expertise and skill, ensuring that all repairs and maintenance are carried out with precision and quality. Their commitment to using the latest and most up-to-date diagnostic equipment underscores their dedication to identifying faults in your vehicle swiftly and cost-effectively, expediting the repair process. What sets Swift Car Care apart is the fusion of an excellent standard of customer service with professional expertise, all delivered at a highly competitive rate. When they provide a quote, they also arrange for the recovery vehicle, making the process as convenient as possible for their customers. The team at Swift Car Care is composed of highly qualified and experienced professionals who are well-prepared to work on all makes and models. Their work is further reinforced by a 12-month or 12,000-mile guarantee, whichever occurs first, ensuring that customers receive a high standard of service and quality workmanship every time. Swift Car Care also extends its services to Brampton, broadening their reach to provide assistance to a wider customer base.

UNIQUE FACTS:
• Winners Of An Aa Excellence Award
• Exceptional Standards Of Workmanship
• Customer Service Is Guaranteed.
Speciality:
Car Air Conditioning, Batteries, Brakes, Exhausts, Repairs, Servicing, Tyres, Carbon Cleaning, Clutch Replacement, Diesel Particulate Filter Cleaning, Drop-Off and Collection, Engine Diagnostics, Hybrid Car Repairs and Servicing, Mechanical Repairs, MOT Class 4, Steering, Suspension, Wheel Alignment & Wheel Balancing
Contact:
Working Hours:
Mon-Fri: 8:30am - 6pm
Sat & Sun: Closed
TBR® Inspection Report: