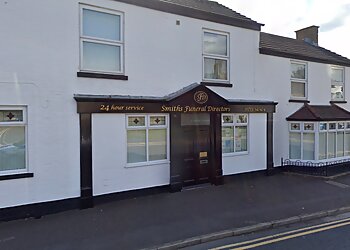 Smiths Funeral Directors, an independent and family-owned funeral director, is owned and managed by the Smith family. Their fully trained team, comprising highly professional individuals, shares a common dedication to care and compassion. Offering personal and discrete services around the clock, including weekends and public holidays, they tailor each family's wishes for a unique and bespoke funeral service. As members of the SAIF (National Society of Allied Independent Funeral Directors), they also provide pre-paid funerals. Serving Peterborough and the surrounding villages, they offer a unique and caring service, including a bespoke funeral plan for individual requests, ensuring support for families 24/7 during challenging times.

UNIQUE FACTS:
• Caring Funeral Directors
• Individually Tailored Funerral
• Fully Trained Team.
Speciality:
Burial, Coffins, Caskets, Dressing, Urns, Flowers, Catering, Direct Cremation, Funeral Repatriation, The Registration of a Death, Floral Tributes, Newspaper Announcements, Embalming, Obituaries & Legal Advice
£Price:
ATTENDED FUNERAL: £1779.00
Legal and administrative arrangements: £574.00
Collecting and transporting the deceased person: £255.00
Care of the deceased person before the funeral: £200.00
Providing a suitable wood effect veneer coffin: £295.00
Viewing of the deceased person (Monday - Friday, 9:30 a.m. - 4:30 p.m.): £5.00
Transporting the deceased person to the agreed cemetery or crematorium: £450.00

Contact:
Working Hours:
TBR® Inspection Report: