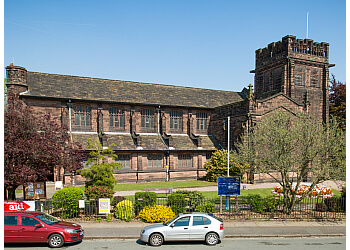 Christ Church is located in Wirral and stands as one of the region's most spiritually significant places of worship. William Lever founded this united, reformed church firmly dedicated to its mission. Communion services are typically conducted on the first Sunday morning and the third Sunday afternoon of each month. Initially established as a congregational church, Christ Church underwent a transformative phase when the Congregational and Presbyterian denominations merged in 1972. While their minister, Reverend Ian Smith, as seen in the picture, typically leads most services, the church also welcomes visiting ministers, lay preachers, or other church members to take part in worship. For their spiritual guidance, Christ Church relies on the 'New International Version Bible' and the 'Rejoice and Sing' hymn book, a compilation of hymns thoughtfully selected by the URC. They warmly welcome visitors to join them in worship and offer in-person Sunday services, as well as ceremonies for Baptisms, Weddings, and Funerals. Moreover, the churchyard is accessible for those who wish to visit or tend to graves.

UNIQUE FACTS:
• Beautiful Architecture
• Registered For Marriage Services
• Worship, Fellowship And Care For The Community.
Speciality:
Weddings, Minister, Magazine Editor, Baptisms, Weekly Bulletin Editor, Choir, Events, Sunday Worship & Calendar
Contact:
Working Hours:
TBR® Inspection Report: