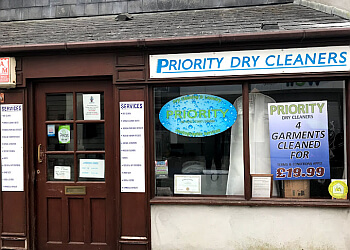 CALL
PRIORITY DRY CLEANING AND LAUNDRY SERVICES
Since 1998
Priority Dry Cleaning and Laundry Services, a locally owned and operated dry cleaning business situated in Plymouth, proudly possesses more than two decades of experience in the dry cleaning and laundry industry. Their dedicated and fully qualified team is resolute in providing top-quality guidance and recommendations for all your residential and commercial cleaning needs. Their principal objective is to deliver exceptional services at competitive rates while maintaining the high standards of quality and finishing that their diverse clientele, spanning both residential and commercial sectors, expect. With an impressive track record of 20 years in the dry cleaning and laundry trade, they are dedicated to ensuring customer satisfaction by offering expert advice and guidance. Their staff is not only well-qualified but also wholeheartedly committed to meeting your domestic and commercial cleaning requirements. Priority Dry Cleaning & Laundry goes the extra mile by providing complimentary collection and delivery services for your orders.

UNIQUE FACTS:
• High Quality Services
• Eco-friendly
• 100% Customer Satisfaction
• 2 Hour Express Cleaning.
Speciality:
Dry Cleaning: Tablecloths, Trousers, Shirts, Household Items, Tie, Jumpers, Wedding Gowns, Blouses, Fur, Suede, Skirts, Day, Reproofing, Alteration and Repairs, Evening and Cocktail Dress, Bedding, Waistcoat, Jacket, Coat, Leather, Linens & Duvets Cleaning
£Price:
3 piece Suit £14.99
2 piece Suit £13.99
Skirt £7.99
Jacket £9.99
Trousers £8.99
Evening Dress starts from £15.00
Top Coat £12.99
Cocktail Dress starts from £20.00
Coat ¾ £9.99
Wedding Dress starts from £50.00
Mac £12.99

Shirt £3.00
Fake Fur coat £28.00
Blouse £4.99
Fake Fur Jacket £15.00
Silk Blouse £5.99
Puffa Jacket £20.00
Jumper £5.99
Leather Jacket £35.00

Discount:
4 Garments cleaned for £19.99 - 5 Shirts washed, dried and Ironed for £7
Contact:
Working Hours:
Mon-Fri: 9am - 4pm
Sat: 9am - 1pm
Sun: Closed
TBR® Inspection Report: