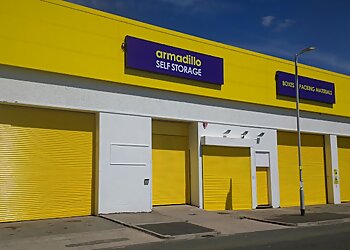 Armadillo Self Storage in Plymouth takes great pride in actively supporting local charities, schools, and organizations in the Plymouth community by offering secure and modern storage solutions. Their commitment extends to providing top-notch self-storage options for homes, ensuring the safety and accessibility of your belongings. They go above and beyond by providing external locking units, further expanding the flexibility of their storage offerings. When you walk through doors, their friendly and knowledgeable staff greets you with a warm smile, always ready and willing to assist you with your unique storage needs. What sets Armadillo Self Storage apart is its unwavering dedication to security. They are the sole major UK self-storage company where every storage unit is equipped with individual alarms, and each customer is granted exclusive PIN code access to both the storage areas and their respective rooms. Your peace of mind is their priority, and they ensure that your belongings remain safe and accessible whenever you need them.

UNIQUE FACTS:
• Extended Hours Access
• Smoke Detection Systems
• Deliveries Accepted.
Speciality:
House Moving, Home Improvements, Wine, Sports Equipments, Archiving Storage, Self Storage, Personal, Business, Student, Containers, Documents, Caravans & Boats Storage
Contact:
Working Hours:
Mon-Fri: 8:30am - 5:30pm
Sat: 9am - 5:30pm
Sun: 10am - 4pm
TBR® Inspection Report: