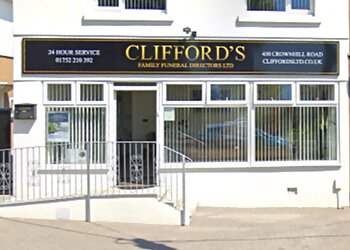 Clifford's Family Funeral Directors Limited is a truly independent family-run business and has supported their local community since 2020, named in loving memory of their own Dad & Grandad Clifford. The family have shaped their support based on how they want their loved ones to be cared for. This is why their ladies have cared for all ladies & their gents have cared for all since day one. In addition, Clifford believes in training their family to the profession's highest standards. As a result, the family hold qualifications with the British Institute of Funeral Directors. They also provide a choice of coffins, limousines, floral tributes, funeral stationery and newspaper notices. They run a silver Ford fleet, including a hearse and one limousine and offer other forms of transport, including horse-drawn carriages and motorbike hearses.

UNIQUE FACTS:
• Churches
• Qualified Funeral Director
• Wide Variety Of Hearses.
Speciality:
Funeral Service, Direct Cremation, Celebrant Officiant, Cemeteries, Churches, Burial Service, Obituaries, Death Notice, Limousine, Horse and Carriage & Registering the Death
£Price:
The Unattended Funeral Plan: £1,925
The Simple Plan: £3,730

Contact:
Working Hours:
TBR® Inspection Report: