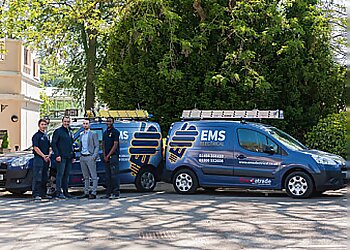 EMS Electrical, under the leadership of Vicente Romano, a seasoned professional with more than 25 years of experience in electrical matters, delivers premium electrical services to both commercial and residential customers in Reading. Their unwavering commitment is always geared toward providing the highest calibre of service to their clientele. With a team of extensively trained and background-checked electricians, they offer a wide range of services, including fault detection, rewiring, fire alarm system installations, security system setups, outdoor lighting solutions, and periodic inspections and testing. Employing state-of-the-art technology, EMS Electrical's electricians ensure that clients receive the most advanced electrical solutions available. Their electricians take immense pride in consistently delivering top-notch electrical services, whether it involves fault identification, rewiring, fire alarm systems, security installations, outdoor lighting, or routine inspections and testing – they have the expertise to assist with it all.

UNIQUE FACTS:
• Quotations
• Hassle-free Services
• Fixed Price
• 36 Hours After Their On-site Survey.
Speciality:
Commercial and Domestic Electrical Services, Data Cabling, Electric Showers, Automated Lighting, Smoke and Fire Alarms, Rewires, Consumer Units & Wiring

Serving Locations:
High Wycombe, Caversham, Henley-on-Thames, Tilehurst, Wokingham & the surrounding areas
£Price:
Consumer Units: Upgraded surge protection device From £128.97
Adding 6a-45a 30ma rcbo From £52.97
Garage consumer unit: From £ 217.97
Upgrade to 18th Edition consumer unit with rcbos and surge protection device, including uninstall & disconnecting existing consumer unit From £595.77
Earthing & Bonding: Upgrade main bonding From £177.98
Supply & install earth rod permanent, including earth electrode box From £289.77
Wiring Accessories: Decorative finish sockets From £14.97
Decorative finish switches From £12.97
Bathroom Fans: Supply and replace 4" fan with adjustable timer (excluding core drilling) From £129.87
Indoor Lighting : LED Fire Rate Standard Downlights From £39.87
Install & connect customer-supplied light fitting From £19.75

Install & connect customer-supplied Decorative light fitting From £55.00
Fire Detection: Smoke Alarms From £95.88

Contact:
Working Hours:
Mon-Fri: 7am - 8pm
Sat: 9am - 5pm
Sun: 9am - 2pm
TBR® Inspection Report: