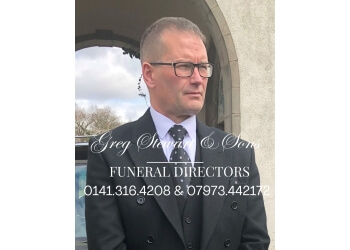 Greg Stewart & Sons is a funeral service provider situated in the East End of Glasgow. They specialize in offering cremation, graveside, and woodlands burial services. Their dedicated and experienced team of directors is here to provide comprehensive support to you and your family during this challenging period, assisting you in arranging a service that truly reflects the life of your loved one. They offer a variety of products and funeral service packages designed to accommodate your budget and religious preferences. Collaborating closely with numerous Funeral Homes in Glasgow and Edinburgh, Greg Stewart & Sons make it a priority to fulfill all the family's requests and wishes. They are actively involved in supporting various charitable organizations and community groups, and their funeral directors take great pride in maintaining a strong reputation for delivering personalized services. Alongside their funeral services, they also provide Mortuary and Embalming facilities. They have an additional branch located at 115 Cowgate, Kirkintilloch, Glasgow, G66 1JD.

UNIQUE FACTS:
• Environmentally-friendly
• Live-streamed Services
• Arrange Church Facilities.
Speciality:
Cremation, Burial, Woodland Burial, Repatriation, Graveside and Memorial Service, Direct Cremations, Natural Burial, Full Range of Coffins, Caskets, Hire of The Celebrant, Organists & Pipers
Award:
The Funeral Awards 2023 Within Scotland's Funeral Industry
Contact:
Working Hours:
TBR® Inspection Report: