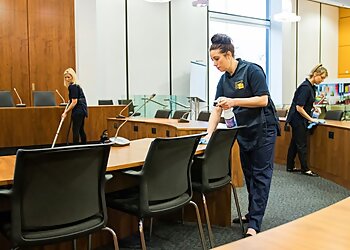 CALL
DUBLCHECK CLEANING SERVICES - GLASGOW
Dublcheck Cleaning Services-Glasgow is the premier provider of commercial cleaning services in Glasgow, specializing in offices, garages, showrooms, and more. Their team comprises thoroughly trained and insured professionals who excel in catering to your office cleaning needs. They go above and beyond by utilizing top-quality equipment, the latest cleaning supplies, and swift service to ensure your space gleams with cleanliness. With over 1000 clients choosing them as their first choice, Dublcheck Cleaning Services has a proven track record of serving top commercial industries with top-notch cleaning services. If you're searching for an office cleaning service that aligns perfectly with your cleaning requirements and budget, Dublcheck Cleaning Services is your ideal choice. Their commitment to eco-friendly cleaning products and processes that minimize environmental impact solidifies their reputation as the top choice when people search for cleaning services in their vicinity.

UNIQUE FACTS:
• Eco-friendly Cleaning Products
• Affordable Price
• 1000+ Clients
• Flexible Work Opportunities.
Speciality:
Office, Commercial, Showroom Cleaning, Best Commercial Contractors & Advanced Services

Serving Locations:
Motherwell & Surrounding Areas
Contact:
Working Hours:
Mon-Fri: 9am - 5pm
Sat & Sun: Closed
TBR® Inspection Report: