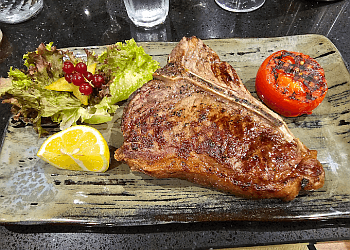 Volare Italian Restaurant is a family-owned business that specializes in serving traditional Italian-style cuisine, including pizzas, prepared using a mix of imported and locally sourced ingredients. Their menu boasts exceptional dishes complemented by an extensive selection of wines curated to enhance your dining experience. The restaurant prioritizes local produce, with additional ingredients imported directly from Italy through reputable distributors. At Volare, each main course is served with a variety of vegetables and the day's freshly prepared potatoes. The restaurant's family-style service ensures an authentic taste of Italy, providing a genuine Italian dining experience. Their menu is rich and diverse, featuring a wide range of traditional Italian dishes. Furthermore, Volare Italian Restaurant is available for private functions, offering a personalized touch to special events. Onofrio, hailing from Sicily, brings a wealth of experience to the restaurant industry. As the chef and proprietor, he infuses his expertise into every aspect of the establishment, guaranteeing a memorable culinary journey for guests.

UNIQUE FACTS:
• Mix Of Imported And Local Ingredients
• Main Course With Daily Fresh Sides
• Owner's Sicilian Background
• Comprehensive Wine List.
Speciality:
STARTERS: Olives, Breads & Dips Minestrone Soup, Parmigiana Di Melenzane, Fish Soup, Cocktail Di Gamberetti, Bresadla, Rucola E Limone, Salmone Affumicato, Crab and Avocado, PASTA: Aglio Olio E Peperoncino, Tagliatelle All'angeld, Spaghetti Bolognese, Penne Amatriciana, Spaghetti Alle Vongole, Penne Laguna, Bruschette, Pane All'aglio, PIZZA: Margherita, Diavola, Quattro Formaggi, Quattro Salumi, Quattro Stagioni & Capricciosa
£Price:
Starters Starts from £6.95
Olives, Breads & Dips Minestrone Soup £5.95
Parmigiana Di Melenzane £7.95
Fish Soup £7.95
Cocktail Di Gamberetti £7.95
Bresadla, Rucola E Limone £9.96
Salmone Affumicato £7.95
Crab and Avocado £7.95
Pasta Starts from £9.95
Bruschette starts from £5.95
Pane All'aglio Starts from £6.95

Pizza Starts from £9.95

Contact:
Working Hours:
Mon, Wed-Fri: 12pm - 2:30pm |
5pm - 10pm
Sun: 12pm - 9 pm
Sat: 12pm - 10pm
Tue: Closed
TBR® Inspection Report: