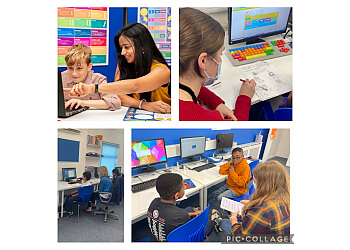 Kip McGrath Education Centres provides high-quality tuition for children aged 6 to 16, specializing in English, Maths, and 11+ exam preparation. Their emphasis is on enhancing literacy and numeracy skills, and they have supported numerous children in this regard. As an Ofsted registered provider, you may be eligible for up to 70% off tuition costs. Their sessions include a combination of written and computer-based activities, ongoing progress reports, and regular tutor feedback. The Kip McGrath English programme caters to a diverse range of students, from virtual non-readers to those with minor learning difficulties. The curriculum comprehensively covers all aspects of English that students are expected to learn throughout their school years. Kip McGrath offers tutorial assistance in both English and Maths for primary and secondary students. Internationally, they have a presence in over 560 centres, offering both in-centre and online tutoring options. Contact them for a free assessment and to discover more about the educational support they provide.

UNIQUE FACTS:
• Commit To The Goals And Timeframes
• Kip's Proven Methods And Techniques Will Bring Out The Best In Your Child.
Speciality:
English, Maths, Primary, Secondary, 11plus, GCSE, SATs, Qualified Teachers, Personalised Lessons & Free Assessment
£Price:
£36 per 80 Minutes Session

Contact:
Working Hours:
Tue & Fri: 4pm - 5:20pm
Wed & Thu: 4pm - 7pm
Sat: 9am - 1pm
Mon & Sun: Closed
TBR® Inspection Report: