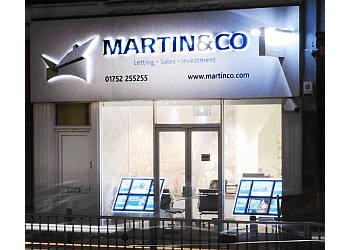 Martin & Co, situated in Plymouth, is a well-established estate and letting agent, specializing in sales, lettings, and property management. Renowned for delivering exceptional service to sellers, buyers, landlords, and investors, the company seamlessly blends traditional values with cutting-edge property marketing technology. Their greatest strength lies not only in technological prowess but also in a genuinely warm, friendly, and professional approach extended to all clients. Guided by Managing Director Chris Whitaker, a former British Army Officer with 16 years of management experience, Martin & Co positions itself as a leader in the industry. The team's mission is to make the process of letting, selling, or buying a property as worry-free as possible, emphasizing a client-centered approach. As proud members of the Association of Residential Letting Agents (ARLA), Martin & Co adheres to high industry standards, ensuring professionalism and integrity in their services. Clients benefit from a range of services, including free home track valuation reports and complimentary home valuations. This commitment to transparency and added value underscores Martin & Co's dedication to providing a comprehensive and client-friendly experience in the competitive real estate landscape of Plymouth.

UNIQUE FACTS:
• Military Leadership Background
• Client-centered Approach
• Leadership Experience
• Free Home Valuation Services.
Speciality:
Lettings, Rent Protection, Legal Defence, Maintenance, Landlords Service, Rent Guarantee, Selling and Buying, Tenant Monitor, Management Visits and Check-Out, Damage Disputes, Gas, Electric, Water and Council Tax Liability, Tenant Find, Full Management & Property Searching Service

Serving Locations:
Plymouth, Saltash, Torpoint, North Plymouth, Crownhill, Callington, Derriford, Woolwell, Ivybridge, Plympton, Plymstock & South Hams
£Price:
NEW TENANCY SET UP:
Manage & Protect - Min of £450
Tenant Find Only - Min of £600
NEW TENANCY SET UP :
Manage & Protect - 50% plus VAT
Fully Managed - 60% plus VAT
Fully Managed - Min of £450
Rent Receipt - Min of £450
Rent Receipt - 60% plus VAT
Tenant Find Only - 100% plus VAT
MONTHLY COMMISSION:

Manage & Protect - 14% plus VAT
Fully Managed - 12% plus VAT
Rent Receipt - 9% plus VAT
DEPOSIT REGISTRATION (per Security Deposit) :
Manage & Protect - £35 plus VAT
Fully Managed - £35 plus VAT
Rent Receipt - £35 plus VAT
Rent Receipt - £100 plus VAT
Tenant Find Only - £100 plus VAT
Tenant Find Only - £35 plus VAT
TENANCY RENEWAL AND /OR RENT REVIEW :
Manage & Protect - £100 plus VAT
Fully Managed - £100 plus VAT
TENANCY CHECK OUT:
Manage & Protect - £65 plus VAT
Fully Managed - £65 plus VAT
RentReceipt - £65 plus VAT
Tenant Find

Contact:
Working Hours:
Mon-Fri: 9am-6pm
Sat: 9am-4pm
Sun: Closed
TBR® Inspection Report: