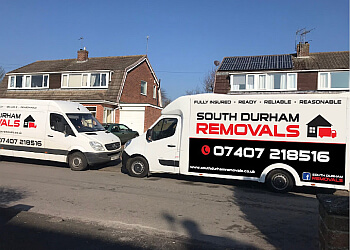 South Durham Removals is a family-operated removal business. They provides professional removal services at highly competitive rates. Every job they undertake receives meticulous care, and their ultimate goal is to surpass customer satisfaction. By delivering exceptional service, they aim to earn recommendations from satisfied customers and encourage repeat business. With a focus on professionalism, South Durham Removals ensures that your office furniture is efficiently moved, allowing you to resume business promptly. They not only assist with the physical move but also provide necessary materials to safeguard your belongings during transit. Emphasizing the safety of your possessions, South Durham Removals guarantees a secure and prompt transportation process to your new location. The company is fully experienced and insured, catering to a wide range of removal needs, including domestic, business, and retail. Their extensive experience in transporting various goods, regardless of size or delicacy, highlights their commitment to ensuring the utmost safety and efficiency in delivering belongings to their new premises.

UNIQUE FACTS:
• Professional & Stress Free
• Packing Materials Provided
• Student & Oap Discount
• Reliable Service
• Fully Insured
• Customer Satisfaction
• Prompt & Efficient Transportation
• Hassle & Stress Free
• Reasonable Prices
• Free Quote.
Speciality:
Office Moving, Industrial Removals, Furniture, Door to Door Services, Single Items, Packing Materials, Full House Moves, Business, Delivery, Multiple Item, Packing Services & Storage
Discount:
10% Discount for Students and OAP's
Contact:
Working Hours:
Mon-Thu: 8am - 8pm
Fri: 8am - 6pm
Sat: 8am - 5pm
Sun: Closed
TBR® Inspection Report: