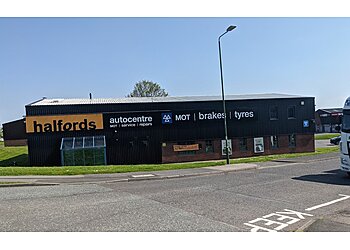 Halfords Autocentre stands as a prominent car garage serving Durham and its surrounding areas, offering a comprehensive array of services, including MOTs, car servicing, repairs, and tire expertise. Their team of technicians, known for their knowledge and approachability, is dedicated to providing honest advice. With a vast network comprising more than 600 stores and over 10,000 colleagues, Halfords Autocentre has emerged as a leading operator in the realms of MOT testing, tire services, car servicing, and automotive repairs, successfully catering to over 750,000 customers each year. Their skilled mechanical team takes the time and care to conduct thorough inspections, ensuring accurate diagnoses. Booking an MOT online with Halfords Autocentres is a convenient option. They take pride in offering trust, expertise, price guarantees, and quality assurances as standard components of their services, ultimately delivering an exceptional retail experience. Additionally, they provide complimentary clutch checks for added peace of mind.

UNIQUE FACTS:
• ATA-Trained Testers
• Mot Certificate Available
• 10% Discount in Halfords Retail Stores.
Speciality:
MOT, Car Servicing, New Tyres, Brake Check, Diagnostic Check, Free and Complete Air Con Service, Air Conditioning, Exhausts, Brakes, Clutches, Diagnostic Checks, Wheel Alignment, Batteries & Repairs
£Price:
MOT starts from £39.99
Full Service + MOT starts from £229.99

Contact:
Working Hours:
Mon-Fri: 8am - 6pm
Sat: 8am - 5pm
Sun: 10am - 4pm
TBR® Inspection Report: