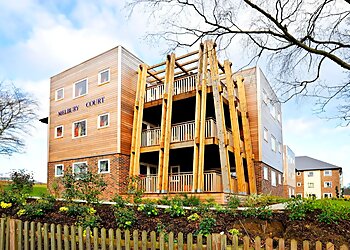 Melbury Court is a delightful, purpose-built retirement home situated in Durham. They offers a variety of care services, including residential, nursing, and residential dementia care. This hospitable establishment provides residents with a selection of tastefully decorated sitting rooms and dining areas. The exquisitely landscaped garden, affectionately tended to by some of the residents, acts as a popular location for relaxation and socialising with friends and family. All of their well-appointed bedrooms and living spaces are wheelchair accessible, ensuring convenience and comfort for all. Their extensively trained team is committed to delivering the highest quality nursing and specialist care and support services for your loved ones, with a focus on establishing enduring careers in caregiving. The bedrooms at Melbury Court are considerately furnished, offering all the necessary amenities for residents to unwind and make the most of in-room care and services provided by their skilled staff. Their hospitality team takes pride in fashioning mealtimes as a special and invigorating part of each day. In their homes, meals are not solely about providing nutritious and delectable food but also about cultivating a social ambiance. They accommodate special dietary requirements and continuously seek ways to make the dining experience as captivating as possible. With over 700 recipes in the HC-One cookbook, they are consistently updating their offerings to enrich the culinary experience for their residents.

UNIQUE FACTS:
• Friendly And Safe Community
• Comfortable Lifestyle.
Speciality:
Hairdressing Services, Volunteer Programs, Foot Care, Hairdressing, Meals, Personal Laundry Services, Scheduled and Supervised Outings, Surface Parking, Lounge with Big Screen Television, Music Therapy, Professional Therapy, Baking, Recreation, Writing, Gardening, Dancing, Painting & Social Program
Contact:
Working Hours:
TBR® Inspection Report: