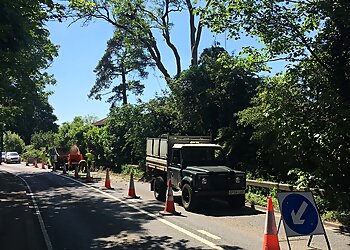 Thompson Trees Northants stands as a reputable and highly professional Tree Service company situated within Northampton. The hallmark of their excellence lies in their dedicated team members, all of whom are fully insured and licensed, providing their clientele with peace of mind regarding the safety and quality of their services. Their commitment to high standards is further underscored by their adherence to the rigorous BS 3998 quality standard, ensuring that their work consistently meets and exceeds industry benchmarks. The company's commitment to delivering quality is reinforced by their comprehensive insurance coverage, including Public Liability Insurance, Professional Indemnity Insurance, and Employer's Liability Insurance. This layered approach to protection not only guarantees the safety of their clients but also demonstrates their preparedness to manage any potential challenges that may arise during the course of their work. Thompson Trees Northants has made a strategic shift toward operating as a more manageable, family-run enterprise, and this shift has been designed to amplify their focus on customer relationships and uphold their reputation for unwavering reliability. Furthermore, their dedication to delivering the highest standards of quality within the realm of tree services is unwavering, and they achieve this while maintaining a competitive and equitable pricing structure, ensuring that their services are accessible to a wide range of customers.

UNIQUE FACTS:
• Level 4 Diploma In Arboriculture
• NPTC – Pa1 & Pa6 Chemical Certification
• CSCS Qualification (construction Site Operative)
• Competitive Prices.
Speciality:
Consulting, Weight Reduction, Domestic, Commercial, Stump Grinding, Crown Thinning, Cleaning, Coppicing, Dead Woods, Pruning, Pollarding, Trees Removal, Hedging, Surveys, Shrubs, Vegetation Management, Hazardous, Trimming & Reports
Contact:
Working Hours:
Mon-Fri: 9am - 5pm
Sat & Sun: Closed
TBR® Inspection Report: