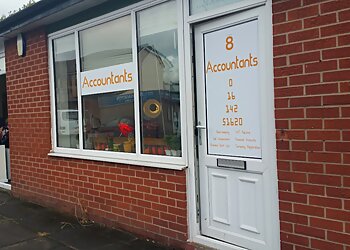 The Accountants is a comprehensive accounting firm committed to delivering professional and personalised assistance to its clients. Specialising in personal tax returns, their accounting services provide guidance across a broad spectrum of financial and business needs. Geared towards offering operational support and enhancing performance and profits, their team of expert accountants delivers a diverse range of services to individuals and companies spanning various industries. They work collaboratively with client companies to optimise business potential and ensure maximum tax benefits. The partners, managers, and staff at The Accountants bring accounting experience across all sectors, from retail to manufacturing, and expertise in disciplines ranging from business planning to audit. They stand ready to assist you in achieving compliance, including with your corporation and self-assessment tax returns.

UNIQUE FACTS:
• Professional Service
• Exceptional Service.
Speciality:
Sole Trader, Audit, Accounts, Business Services, VAT, Payroll, Taxation Planning, Businesses Support, Advice and Plans, Marketing Assistance, Self Assessment Tax Returns, Companies House Annual Return, Bookkeeping, Partnership Taxes, Company Formation & Financial Planning
£Price:
Self Assessment Tax Returns £150
Companies House Annual Return £30
Payroll £120 per annum
C.I.S Returns £10 per submission
Vat Returns £60 - £120 per return
Sole - Trader Accounts £100 - £450
Ltd Accounts £650 - £2000
Bookkeeping £15 per hour
Company Formation £125 - £150

Contact:
Working Hours:
Mon-Sat: 7am - 7pm
Sun: Closed
TBR® Inspection Report: